| | |
| --- | --- |
| Item Location: | Muskegon, Michigan. |
| Country: | United States |
| Time left: | End |
| End Time: | 2017-04-25 12:59:09 |
| # Bids | 44 |
| Current bid: | 11211.0 USD |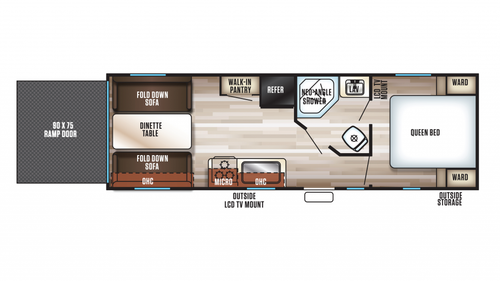 The aluminum rims are durable, lightweight, and won't rust over time!   See Other Grey Wolf Floor PlansSpecificationsSleeps4Slides0Hitch Weight686 lbs.Ship Weight4871 lbs.GVWR7686 lbsLength28 10'Height10 6'Width8 0'Fresh Water46 galGray Water38 galBlack Water28 galL.P. Capacity60 lbsTire Size14'Furnace BTU20000 The included stabilizer jacks give you a nice solid set up so the rig isn't bouncing and swaying with every inside movement or strong wind. Inside will always be comfortable since you'll have a 13.5K BTU A/C unit and a 20K BTU furnace. Use the handy ramp door to load up all your cargo!Call 231-683-4490Email Tom BourdonText 231-557-8870 Call 231-683-4490 Email Tom BourdonText 231-557-8870 Create Family Memories Call Tom 231-683-4490 Can fit a standard golf cart in the garage Call Tom 231-683-4490 Pack up the double door refrigerator with all your cold items and ditch that annoying cooler that's always needing ice! A triple burner cooktop, oven, and microwave allow you to make all your own meals and without struggling with a campfire! Four bunks in the bunkhouse ensure that your little ones each have their own space! Offering wholesale price of $16,100!!! Call Tom at 231-683-4490 and ask about special financing & shipping! A triple burner cooktop, oven, and microwave allow you to make all your own meals and without struggling with a campfire! It's no secret that campground bathrooms can be kinda gross.


Never have to see one again now that you'll be traveling with your own full bath! The plush queen bed will whisk you off to sleep each night and have you up and ready to go in the morning. Own this Grey Wolf today! But call quick, they're going fast! Ask for Tom at 231-683-4490.Call 231-683-4490Email Tom BourdonText 231-557-8870 Call 231-683-4490 Email Tom BourdonText 231-557-8870Request A Price Processing Your Request Thank you for your request Request Price Similar InventoryView All Inventory 2016 Forest River Grey Wolf 19RR - 034140 View Listing 2017 Forest River Grey Wolf 19RR - 036781 View Listing 2017 Forest River Grey Wolf 22RR - 040346 View Listing 2015 Forest River Grey Wolf 25RR - 026303 View ListingSubmit Credit ApplicationFinancing for our American and Canadian customers!! If you would like to fill out a credit application please click Here to proceed.


Call Tom at 231-683-4490 when you complete this credit application for immediate processing.'Great Service!'Mike HaapalaSee More Reviews Fees and Tax InformationSales tax, title and license fees vary according to your state of residence and will be charged as specified by the state of Michigan. State of Michigan customers are required to pay the sales tax, title and plate fee at the time of delivery. If the RV us being pick up in the State of Michigan you will have to pay your state sales tax at that time. You are responsible for titling the vehicle and perfecting the lien, if applicable, in any other state. There is a documentation of $210.00. A $10.00 temporary plate/registration in transit fee is required if sales tax is collected. A temporary registration can not be issued if sales tax is not collected unless your state is not reciprocal with the State of Michigan.


Out of country customers must pay Michigan sales tax unless the RV is delivered out of the state of Michigan.Payment informationWhen the auction concludes a deposit of $1000 (non-refundable) must be paid within 24 hours of the close of the auction. The remaining balance must be paid in the form of a Cashiers Check, Money Order, Financing is an accepted form of payment.DisclaimerLimited quantities are available. These RVs are also for sale locally so please call on availability before placing a bid. We strive for 100% accuracy in our ads. I can create an EBAY auction for you on a different RV of your choice. Tom Bourdon231-683-4490 cell Lakeshore RV Center4500 E. Apple AveMuskegon. MI 49442 lakeshore-rv.com About UsNo other RV dealers in the country can beat our prices – period. Our prices are so competitive that two of our manufacturers restrict us from publishing them – so call us at 877-743-8010.


Lakeshore RV is a family-owned business, we are famous for our prices and selection. We carry only the best, featuring the top 16 brands from the industry's top 3 manufacturers (Forest River, Keystone, and Heartland). Although we're located near the beautiful shoreline of Lake Michigan, we ship our RVs throughout the US, Canada, and worldwide with fully insured delivery to your door. Our knowledgeable staff members are always prepared with expert advice and a helping hand. We're proud that our Michigan RV dealership is a worldwide leader in RV sales and customer satisfaction. It's our commitment to service before and after the sale that has made it that way. Give us a call or pay us a visit today! Bid with confidence as we have 100% feedback score and customer satisfaction. Please feel free to give us a call with any questions.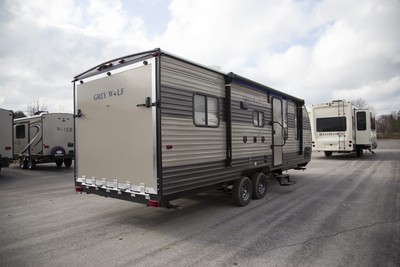 Lakeshore RV - 877-743-8010 CUSTOMER TESTIMONIALS AND FEEDBACK:.