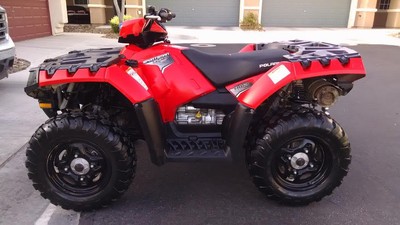 | | |
| --- | --- |
| Item Location: | Las Vegas, Nevada. |
| Country: | United States |
| Time left: | 4D:10H |
| End Time: | 2017-04-28 02:30:00 |
| # Bids | 19 |
| Current bid: | 2125.0 USD |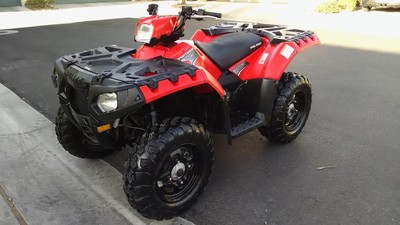 2012 Polaris Sportsman 550 EFI - All stock. Runs great! Only 933 original miles. Includes the owners manual, toolkit, spare key, and a hitch. The Sportsman 550 is incredibly powerful! It features a fully automatic transmission, push-button AWD (4x4), ADC (Automatic Decent Control), and electronic fuel injection (EFI). If you're not familiar with its specs, search google. I'm in the lending industry (title loans) and remarket about 200 powersports units annually (everyone asks how I acquire them). Most are sold in lots to dealers, but when I don't have at least six or more ready to package at a time, I list hereon eBay. However, this was not a repo. A new(er) neighbor heard that I deal with powersports and reached out. They're retiring, not in the best shape to keep riding, and didn't want to sell it themselves.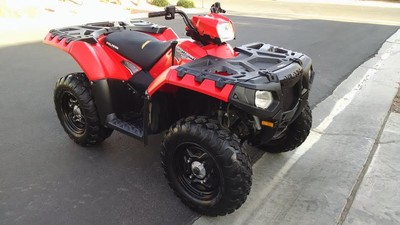 I'm happy to help, especially since there aren't as many repos as there used to be (the economy is super strong). I make a point to accurately describe everything I sell, noting every known flaw (hence my perfect feedback). With that said, upon a quick inspection and test ride I noted: the right front headlight's bracket has broken (common issue with this era Sportsman - being secured by rope, but works great - noted in photos) and the seat is torn (noted in photos). Otherwise, just avg wear (minor scuffing, etc) as one would expect with any pre-owned ATV. Sold with a Sheffield Financial lien release and NV OHV Bill of Sale. This Sportsman was purchased new at RideNow Boulder. NV did not require titling or even registering of ATVs prior to July 1st, 2012, so neither were ever obtained (though they were always optional).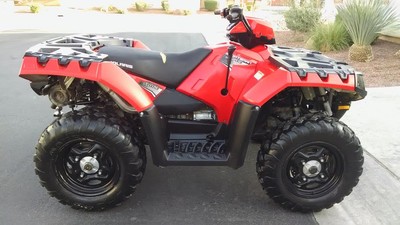 NV now requires all new ATV owners to register their ATVs, but titling is still optional for any unit sold new before the aforementioned date. NV will issue a clean title upon completing a title affidavit and completion of a VIN inspection (standard process for registration anyway). I do not know the processes or laws of other states (except AZ), so if you're not already familiar with what your state may require of you, if anything, please research it (meaning - google reputable sources, and not some anonymous person's opinion via a public forum, the misinformation posted online is insane). Located in Las Vegas, NV 89141. Payment must be made with cash in person, or if you're having it shipped, via certified funds. I only accept PayPal for the deposit. Shipping is solely your responsibility (don't ask me for quotes, but I do recommend UShip).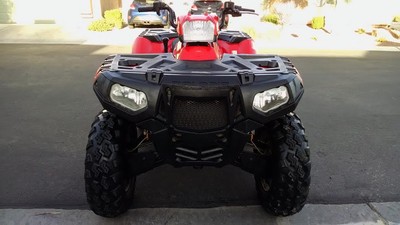 I will not drain fluids or crate (transport companies haven't required this in over a decade anyway). Vehicle must be paid in full and picked up within seven (7) days unless an extension is granted in advance (I don't have the space to keep units longer, but I'm more than reasonable with accommodating your transport service & understand they're not always right on time). Bidders with less than ten (10) positive feedback must contact me prior to bidding, or I will cancel your bid and block you..