| | |
| --- | --- |
| Item Location: | Shawnee, Oklahoma. |
| Country: | United States |
| Time left: | 18D:6H |
| End Time: | 2017-05-11 22:13:35 |
| # Bids | 0 |
| Current bid: | 4999.0 USD |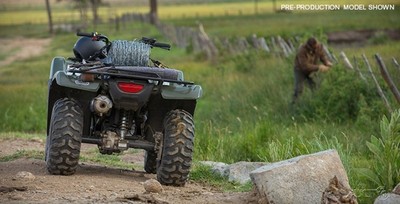 SALES (405) 273-1400 99 Interstate PKWY Shawnee Oklahoma 74804     17 Honda FourTrax Rancher™ 4X4 Vehicle Information Year: 2017 Make: Honda Model: FourTrax Rancher™ Condition: New   Description Purchaser must be end user. NO DEALERS.Something For Just About Everyone. Any mechanic, woodworker, tradesman or craftsman knows that the right tool makes the job a whole lot easier. And having the right tool means having a choice. Weve all seen someone try to drive a screw with a butter knife, or pound a nail with a shoe heel. The results are never pretty. Hondas FourTrax Rancher line are premium tools for the jobs you need to do, whether thats on the farm, the jobsite, hunting, fishing, exploring... or on the ranch. Its easy for you to choose the right mix of featuresjust like reaching for that right tool.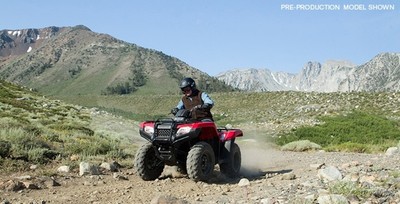 Every Rancher starts with the same proven Honda engine, the heart of any ATV. A 420 cc liquid-cooled single-cylinder design with fuel injection, its engineered for the kind of wide, low-revving power an ATV rider wants. And it offers something no other ATV can: Hondas legendary reliability and efficiency. After that, the mix-and-match of features is up to you. We have models with independent rear suspension (IRS) for excellent handling and a superior ride. We also have swingarm / solid-axle models suited to riders who tow a lot, or who want a solid axles simplicity of design. Standard manual ATV transmission, our exclusive Electric Shift Program, or Hondas revolutionary Automatic Dual Clutch Transmission (DCT) are all available, as is Electric Power Steering and your choice between two- and four-wheel drive.


Choosing a Rancher is a no-brainer. Your only real challenge is choosing the right Rancher. And shouldnt all lifes challenges be that easy? Features: Innovations TRAXLOK SELECTABLE 2WD/4WD: Our rock-solid system lets you choose either 2WD or 4WD instantly, giving you the freedom to choose between lighter steering (in 2WD) and maximizing available traction (in 4WD) when you need it most. DIGITAL INSTRUMENTS: Easy to read and full of the information you want. In addition to the standard gear position indicator, speedometer, odometer, trip meter, and hour meter you get readouts for fuel level, clock, water temperature, speed and Hondas maintenance minder system (to help remind you when its time to have your ATV serviced). REVERSE LEVER: The Ranchers reverse lever is simple, easy and intuitive to use.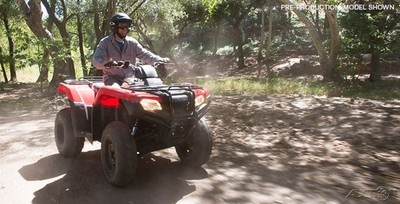 IN-TANK FUEL PUMP: The Rancher incorporates an in-tank fuel pump for cooler pump operation, and long pump life. SEMI-DRY-SUMP ENGINE DESIGN: Compact and lighter-weight, the Ranchers overhead-valve, semi-dry-sump design creates an engine that's shorter from top to bottom. That returns two big benefits: it enhances handling by lowering the engine's center of gravity, and it also allows for better ground clearance. LONGITUDINAL ENGINE LAYOUT: By orienting the crankshaft front to back in the chassis in our ATV and side-by-side engines, we route the flow of power straight to the wheels without any unnecessary right-angle detours, reducing powertrain friction and putting more grunt to the ground. COMFORTABLE SEAT: A plush seat and open rider triangle (Bars/Seat/Pegs) teams up with the suspension to really treat you right.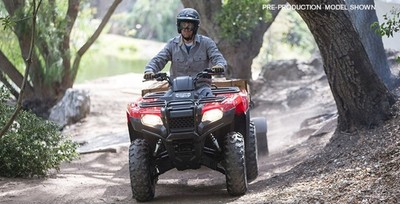 Superior ergonomics have always been a Honda priority, and the Rancher is no exception. With thick, soft foam, its exceptionally comfortable. PROGRAMMED FUEL INJECTION: Being able to count on crisp performance and starting under any conditions is a must for anyone who depends on their ATV. Thanks to Honda's Programmed Fuel Injection (PGM-FI)featuring a 34mm throttle body, 12-hole Denso injector, and an oxygen sensor that allows the fuel mapping to instantaneously adjust to any riding conditionthe Rancher not only ensures trouble-free operation in the cold and at varying altitudes, it reduces emissions and enhances fuel efficiency. SWINGARM REAR SUSPENSION: On select Rancher models, the rear swingarm incorporates an enclosed, solid-axle design for strength and rigidity. Credit Application Directions to Dealer Contact Us Options and Standard Features Basic Information Year: 2017 Make: Honda Model: Fourtrax Rancher™ Trim: 4X4 Stock Number: 639900 Condition: New Type: Utility Mileage: 0 Specifications Bash Plate (Front) Front Tire Diameter (in): 24 Front Tire Width: 8 Ground Clearance (in): 7.2 Ground Clearance (mm): 182.9 Height (Inches): 46 Height (mm): 1173.5 Length (mm): 2103.1 Rear Hitch Rear Tire Diameter (in): 24 Rear Tire Width: 10 Towing Capacity (kgs): 384.7 Towing Capacity (lbs): 848 Tube / Tubeless: Tubed Turning Radius (ft): 9.2 Wet Weight (kg): 275.8 Wet Weight (lbs): 608 Wheelbase (in): 49.9 Wheelbase (mm): 1267.5 Wheels Composition: Steel Width (Inches): 47 Width (mm): 1204 Engine Bore (in): 3.41 Bore (mm): 86.5 Carburetion Brand: Keihin Carburetion Type: Fuel Injected Compression Ratio Cylinders: 1 Displacement (ci): 25.6 Engine Cooling: Liquid Engine Size (cc): 0 Engine Stroke: 4-Stroke Fuel Capacity Reserve (gal): 1.3 Fuel Capacity Reserve (l): 4.9 Fuel Injector Fuel Injector Size (mm): 34 Fuel Requirements: Regular Starter Type: Electric Stroke (in): 2.82 Stroke (mm): 71.5 Valve Configuration: OHV Valves: 2 Valves Per Cylinder: 2 Engine Type: Fuel-Injected OHV, Wet-Sump, Longitudinally-Mounte Fuel Type: Gasoline Drivetrain Transmission Type: Manual / Automatic Clutch Driveline Brand: Traxlok Driveline Type: Selectable 4X2 / 4X4 Number Of Driveline Modes: 2 Number Of Speeds: 5 Primary Drive (Front Wheel): Shaft Primary Drive (Rear Wheel): Shaft Reverse Limited Slip Differential Chassis / Suspension Frame: Steel Front Adjustable Fork Pre-Load Front Travel (in): 6.7 Front Travel (mm): 170 Number Rear Shock Absorbers: 1 Rear Adjustable Shock / Spring Pre-Load Rear Suspension Material: Steel Rear Travel (in): 6.7 Rear Travel (mm): 170 Steering Control: Handlebar Steering Type: Manual Suspension - Front: Independent Double Wishbone Suspension - Rear: Swing Arm Comfort Digital Instrumentation Hour Meter Seat Location: Driver Seat Material: Vinyl Seat Type: One-Piece Safety Brakes - Front: Dual Hydraulic Disc Brakes - Rear: Sealed Drum Front Brake Diameter (in): 7.5 Front Brake Diameter (mm): 190 Rear Brake Diameter (in): 6.3 Rear Brake Diameter (mm): 160 Halogen Headlight(S) Other Information CV Boot Cover  Apply Now Secure Credit Application Applying for a vehicle loan online is one of the quickest and easiest application methods.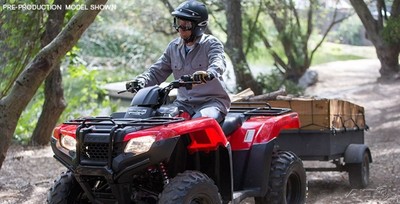 Our secure application is easy to complete, all you need are a few personal and employment details. Contact Shawnee Honda Polaris 99 Interstate PKWY Shawnee Oklahoma 74804 View Map Ask for:SALES Contact: Contact Us Store Number 9am-6pm:(405) 273-1400 Terms Placing a Bid: Your bid constitutes a legally binding contract to purchase this vehicle. Please do not bid if you're not seriously interested or financially able to purchase this vehicle. Please read eBay's User AgreementShawnee Honda Polaris reserves the right to, Obtain and verify the registered information of all users who bid on this auction. Cancel any and all bids at our discretion, or end the auction early if necessary.Bidders Age: You must be 18 years of age or older to Bid. Special eBay Bid Retraction Rules: Please read eBay's 'Retracting a Bid' If you place a bid before the last 12-hour period of the auction: You may retract that bid before that last 12-hour period but only for exceptional circumstances.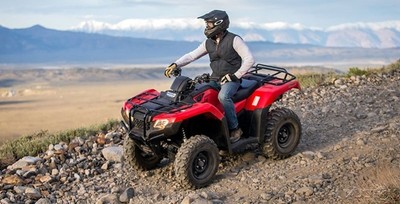 You will not be allowed to retract that bid during the last 12-hour period of the auction. If you place a bid during the last 12-hour period of the auction: You will be allowed to retract the bid for exceptional circumstances but only if you do so within one hour after placing the bid.Funds & Financing: For help in arranging for a Pre-Approved loan or for any questions please e-mail or phone at(405) 777-6544 prior to bidding. Buyers Inspection: Shawnee Honda Polaris has done our best to disclose all information known about this vehicle for auction. Shawnee Honda Polaris welcomes a buyers inspection. If you plan to have a buyers inspection, please make sure you inspect the vehicle prior to the auction ending. Inspection fees if any are Buyers responsibility. Representations and Warranties made by seller: This vehicle is being sold 'as is'.

Manufacturer's warranties may still apply. Extended warranty may be available, e-mail or phone at (405) 777-6544 for details. No representations or warranties are made by seller, nor are any representations or warranties relied upon by bidders in making bids. Taxes and Registration fees: Out of state buyers are responsible for all state, county, city taxes and fees, as well as title service fees in the state that the vehicle will be registered. All taxes and fees must be paid in full in order for vehicle to be titled and registered. Title Information: Vehicles titles may be held by banks or lenders as collateral for loans. In many cases there is a delay in receiving the original instruments up to 21 days from the time we pay a vehicle off. While we usually have all titles in our possession at closing, there are occasions where we may be waiting for them to arrive.

If payment is made by cashier's or personal checks we will hold all titles for 10 days or until funds have cleared. Shipping & Delivery: All shipping charges are buyer's responsibility. Shawnee Honda Polaris will help with shipping arrangements but will not be responsible in any way for claims arising from shipping damage!Licensed Carriers are generally insured for $3,000,000.00. We assume no responsibility for damages incurred after the vehicle leaves our showroom. All shipping arrangements are provided by Shawnee Honda Polaris as a courtesy. We are not affiliated with any carrier. Any claims or other communication regarding shipment of vehicles will be between you and the shipper, not with Shawnee Honda Polaris. The amount of time it takes for delivery is dependent on the carrier, but is generally 7-14 days from the date the vehicle is picked up from our facility until it is delivered to your destination.

Verify with the shipper for an Estimate Time of Arrival to be sure. Finalizing your Purchase: Shawnee Honda Polaris will contact the successful high bidder by e-mail after the auction closes. Successful high bidder MUST communicate with at Shawnee Honda Polaris by e-mail or phone(405) 777-6544 within 24 hours of the auction ending to make arrangements to complete their transaction. If we cannot confirm your intention to buy or the sale is not completed within 5 days, we reserve the right to relist this vehicle or sell to any other qualified buyer. In order to secure bid on vehicle, Successful bidder (BUYER) must within 24 hours of bid closing send to Seller a Deposit in the amount of 10% by major credit card, cash in person or bank certified funds. Within 72 hours of bid closing, Buyer must send balance of funds by cash in person or bank certified funds to Seller.

At time of sending initial deposit, Buyer MUST fax copy of their State issued valid Driver License. Furthermore, before said vehicle is released for shipment to Buyer, all other Sale related and title related paperwork must be signed and returned complete to Seller. Copyright © 2017 Auction123 - All rights reserved. - Disclaimer +- Auction123 (a service and listing/software company) and the Seller has done his/her best to disclose the equipment/condition of this vehicle/purchase. However, Auction123 disclaims any warranty as to the accuracy or to the working condition of the vehicle/equipment listed. The purchaser or prospective purchaser should verify with the Seller the accuracy of all the information listed within this ad. Selling a Vehicle? Create Professional Listings Fast and Easy. Click Here!.