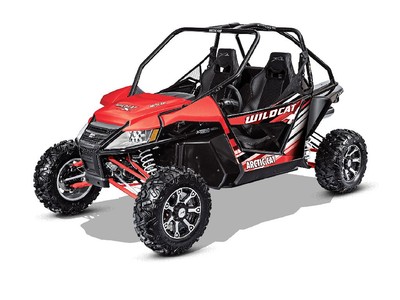 | | |
| --- | --- |
| Item Location: | Georgetown, Kentucky. |
| Country: | United States |
| Time left: | 1D:0H |
| End Time: | 2017-04-24 16:00:00 |
| # Bids | 0 |
| Current bid: | 12999.0 USD |
You simply cannot buy a new Arctic Cat anywhere cheaper than you can from MLS Powersports! We are number one for a reason.If you would like to talk to a real person before you buy it now, Please feel free to call us at 502-863-0920We have more than one of this machine, so if you miss out on this one, just give us a call. About US: As you can see by our feedback we are very honest sellers. Buying a UTV online can be scary. You'll notice in a lot of ads there is very little description and very few pictures. In our ads you get all the details, both good and bad. In addition you are always welcome to come check this machine out and ride/inspect it for yourself before the ad ends to ensure your happiness. However, if you are unable to do so, we guarantee your happiness with this: If you win, get here and find that we have misrepresented it in any way you can walk away without paying a dime and with no fear of bad feedback.

We are easy to work with, and easy to reach by phone or email. While we are a dealership, we are a small business owned by real people with real families. If you decide to buy, please read the entire listing first and take the buying process seriously. Retracting bids or not following through with a purchase has a very negative effect on us. Thank you for looking at our machine. UTV:MSRP: $17,499OUR PRICE: $12,999Savings: $4,500!!!This is a brand new 2016 Arctic Cat Wildcat X w/ EFI, automatic transmission, 4x4, Independent Rear Suspension w/ JRi ECX-1 shocks, half doors, aluminum wheels, 6-ply tires, and Electronic Power Steering! The Wildcat X is built straight from Arctic Cat with some of the top of line equipment available. With an amazing power to weight ratio, it will go pretty much anywhere you're willing to take it.

You will never run out of power with this VERY impressive V-Twin power house! 18' of suspension travel paired with JRi shocks make this machine the smoothest riding Side x Side on the planet. The shocks offer compression and pre-load adjustments to adjust to each and every riders unique riding style. Whether you're a professional racer or just a weekend warrior, this suspension is ready for whatever you can throw at it. Power is what riders crave, right? Insert Arctic Cat's monster V-Twin power plant. The horsepower & torque delivered from this beast is more then enough to do donuts on drive pavement all day long and enough to laugh at any hill you want to brave going up. Not only does this power house bring the power, but it sounds amazing while doing it. That deep rumble growl courtesy of the V-Twin design ensures that people take notice and turn their head.

In short, all the power you'd ever need while delivering a killer sound. The best part is that this machine was made in America, by Americans, and the profits from its manufacture and sale stay in America. We believe that is a big deal. Condition: This machine is BRAND NEW. It has never been sold, registered, or titled. It is not a demo or a factory 'second'. It will come with Arctic Cat full 6 month warranty good at any Arctic Cat Wildcat dealership in the country from the date of purchase. Fees'Other than applicable sales tax, are there any other fees associated with this purchase?' - The only other fee that we add to the purchase of this machine is a $99 documentation fee. This is to help cover the cost of registering machines within the proper channels, having titles made for KY residents, and processing the necessary paperwork to make your purchase legal and secure.

What to expect upon purchaseShould you be kind enough to purchase a machine from us, we do require a $200 deposit through PayPal within 24 hours. This is to help protect us from fraudulent buyers, children without parental permission, or any other similar situation. It also lets us know that you're a serious customer who plans on following through with your purchase. After completing the PayPal deposit, please contact us to provide information and plans such as full name, address, phone number, plus shipping or pick-up arrangements. This will help provide you a timely and painless transaction. FinancingNeed help financing your new UTV? No problem, just give us a call and we can work with you regardless of where you live. Accessories: We stock and install all the best Wildcat accessories. So if you want to add a winch, trailer, etc just drop us a line.

We'd be happy to help. Shipping: We do not provide shipping, but many of our customers have had great luck lately with www.uship.com You can post your shipping requests there and let shippers bid on them. I will be happy to work with your shipper within reason to make it go smoothly for you. Details: As for transaction details, We are MLS Powersports, located in Georgetown, Kentucky (40324). We are right off Interstate 75, 10 miles North of Lexington, KY and 75 miles South of Cincinnati, OH. Our preference is that you pick this machine up with cash in person, but we will also accept a certified check, or bank to bank wire transfer. It MUST be paid for (not necessarily picked up) within 7 days of the listing's close. If you pick this machine up in person, we are required by law to charge you 6% Kentucky sales tax.

When you title this machine in your home state they WILL credit the 6% back to you and you will only have to pay the difference (if there is any) to your local sales tax. (Except in West Virginia & Arkansas). Thinking you can avoid sales tax by purchasing out of state is an urban legend and will cause you heartache. Trust us. Just pay the sales tax and forget it.If you have it delivered to you, anywhere outside of Kentucky, you do not have to pay Kentucky sales tax but may still have to pay sales tax in your home state. The only other exception to this sales tax rule is a valid state exemption for farm/agricultural use.All rebates to dealer. We respond to email questions quickly but you may also contact us at MLS POWERSPORTS 1030 Paris PikeGeorgetown, KY 40324 1-502-863-0920 SCROLL DOWN TO VIEW LARGE PHOTOS.